Not quite a decade and a half ago, when my daughter was still a teenager, I promised her I'd live to be 97 years old.
I no longer remember what prompted the conversation, but that age – 97 – has stuck with me ever since.  It's not all so far-fetched, as I come from a mostly long-lived family (at least, on my father's side), and I'm a vegetarian and reasonably healthy.
Lately, however… ever since my husband died (he was not my daughter's father), I've been having trouble with my promise.
I don't want to live another 37 years without him.  But I don't want my daughter to live without me, either… at least, not any longer than she has to.
I am suddenly very lonely, a feeling I've never had before.  Daughter does her best, but she lives 3000 miles away.  Thank goodness she and her husband plan to move back to Maine later this spring so they can start having babies… she was never going to have children without me around to be a Mummu to those babies.  (Mummu is a Finnish word for Grammie.)
John's kids are all reasonably close to me – between 20 minutes and 2 hours away – but they were adults with their own lives when Johnny and I married.  It's not the same.
We need the kids who have known us for as long as they can remember.  
The following brief article has no major insights, but it captures that need to be around our children.
Study Shows the More You Hang Out With Your Mom, the Longer She'll Live
Make sure you call grandma over for dinner tonight.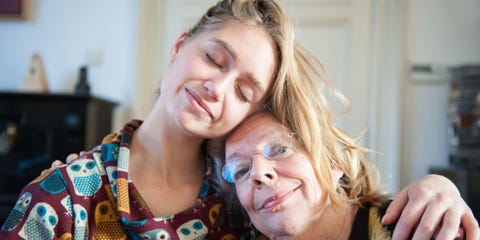 Inviting Grandma over for dinner may actually extend her life — and increase its quality — a new study shows.
Researchers at the University of California, San Francisco found that loneliness plays a large role in the decline so often associated with old age. The study followed 1,600 adults, with an average age of 71 — despite controlling for socioeconomic status and health, the lonely consistently held higher mortality rates. Nearly 23% of lonely participants died within six years of the study, as opposed to only 14% of those that reported adequate companionship.
"The need we've had our entire lives — people who know us, value us, who bring us joy — that never goes away," Barbara Moscowitz, senior geriatric social worker at Massachusetts General Hospital, explained to The New York Times.The elderly place great value in those relationships, so much so that they often overlook a great deal more than their children or even their grandchildren do. It comes down to important relational skills, Rosemary Blieszner, a professor of human development at Virginia Tech, told The New York Times — skills that our grandparents have had a lifetime to hone.
"They're pretty tolerant of friends' imperfections and idiosyncrasies, more than young adults," she said. "You bring a lot more experience to your friendships when you're older. You know what's worth fighting about and not worth fighting about."
Beyond inviting our older relatives and friends into our homes, it's important to encourage elderly relationships — which is why, despite popular belief, older folks tend to thrive in independent or assisted living environments. These living arrangements provide more ways to mingle, to connect, to thrive.
Spending quality time with Grandma and Grandpa helps them, but it benefits us, as well — the symbiotic relationship is undeniable. They get the companionship and conversation so crucial to every day life, and we get their stories, their hugs and, best of all, those famous, secret recipe cookies.
[h/t The New York Times]
************************************
In memory of my beloved husband John Kelly Snyder… 20 Sept 1956 – 21 Oct 2016.
The Warrior Project will eventually become a warm, welcoming drop-in center for those living with extreme emotional and/or physical pain coupled with hopelessness, and a resource for families and friends fearing for the life of, or grieving the loss of, the person they love so much.
My Johnny was a true warrior, fighting demons no one else could see.  I thought he was the strongest man in the world, and perhaps he was, but tragically, the demons got the better of him.
The name of this project is in no way intended to be reflective of, or piggy back off, Wounded Warriors which serves those wounded after September 11, 20o1.  Like too many others, John was a warrior long before then.
Fair winds and following seas, Husband.
**************************************
We now have a group on Facebook to help find resources, support and ideas for getting The Warrior Project off the ground.  You can find us there at https://www.facebook.com/groups/thewarriorproject/
We are accepting blogs and articles written on topics relevant to suicide, hopelessness, grief, and similar topics.  Please contact Linda at LSnyder@regroupbiz.com or warriorprojectmaine@gmail.com.
Follow us on Twitter!  @WarriorProjME.
**************************************
The Warrior Project is NOT an emergency program or service.

In the event of a crisis, please call 911
Other numbers to call include:
Maine Crisis Hotline:
1-888-568-1112
National Suicide Prevention Hotline:
800-273-8255
Veterans Suicide Hotline:
800-273-8255
Domestic Violence Hotline:
800-799-7233